The 18-carat gold toilet was stolen from Blenheim Palace (Oxfordshire, UK).
It is commonly said that Friday the 13th is an unlucky day, but a few hours after midnight on Saturday there was no better day, as the Italian artist Maurizio Cattelan saw. Some might say that he was in for it. Cattelan is known for his really controversial works (for example, the sculpture "La nona ora" depicting John Paul II crushed by a meteorite). You can't be an iconoclast and a scandalist without feeling it. Perhaps that is why on Saturday, August 14, before five in the morning, the work "America" (2016) disappeared from Blenheim Palace, whose value was estimated at one million pounds.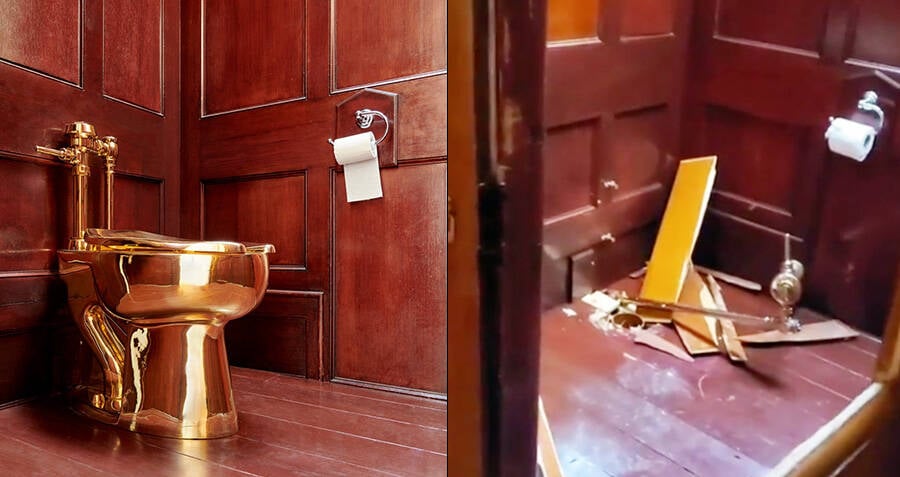 "America" 2016 (source: www.theartnewspaper.com)
The toilet was truly unique. Made of pure 18ct gold, previously presented at the Guggenheim Museum in New York. The thief had a simple task, because everyone - provided that the rigorously set time of three minutes - was able to use it without being identified. Jess Milne of the Thomas Valley Police confirmed that a high-quality solid gold toilet was stolen. Many commentators on this crazy situation fear that the work has been melted down and nothing is left of it. The CEO of Blenheim Palace said in an official statement:
We hope against hope that we can recover this precious work of art. It is deeply ironic that a work of art portraying the American Dream and the idea of an elite object made available to all should be almost instantly snatched away and hidden from view1.
In connection with the incident, a 66-year-old man was arrested, but the work was not found and a detailed investigation is still underway. Although the artist himself is concerned, he also finds it extremely comical that the toilet has been robbed. What inspired him to create this peace of art was the fact that the toilet is a place that literally everyone visits. He later chose material - gold, which is par excellance religious material and an element of capitalist culture. Cattelan admitted that the idea itself had terribly amused him. We just had to wait for its implementation.
This undertaking was really expensive - not every day so much gold is melted in one form. Cattelan wanted everyone to be able to taste a "little" luxury in solitude, hence the possibility of using the toilet. They were to be magical three minutes giving the opportunity to feel the gold seat. Interestingly, he never took this opportunity himself. He laughed that the first one to use it was probably the plumber mounting it. Later, the queues were so long that he gave up this attempt and hoped that such an opportunity would come at Blenhiem Palace. Well, unfortunately, and there he was not able to enjoy this substitute of elitism. Donald Trump was very close to that. Apparently, he asked if he could borrow Vincent van Gogh's "Winter Landscape", but he was refused, and in return he was offered ... a gold toilet seat.
Maurizio Cattelan is a (auto) ironic artist who gladly plays on the noses of critics and art audiences. He was even hailed as "art prankster." Humor in his work is a key element used from a critical point of view. However, he was not the first to exhibit an ordinary toilet seat as a work of art. Cattelan was beaten by a French - Marcel Duchamp. This name is certainly known to everyone, and his work "Fountain" exhibited in 1917 shocked the audience.
Marcel Duchamp "Fountain" 1917 (source: www.1843magazine.com)
Duchamp was the father of ready-mades objects. Many underestimated him because of this, and yet it must be admitted that he has a hundred percent technique of bruitism down to a fine art. He played with the recipient, with his passivity in front of the work of art, and served him something banal to upset him. Toilet? Scandal! Everyone talked about him, and isn't that what the artist depends on in a sense? Andy Warhol claimed that making money is the biggest trick.
Duchamp's "Fountain" commits an attack on popular conventions. Remember that we are talking about the 1920s. The work signed "R. Mutt 1917" was to be exhibited at the Society of Independent Artist exhibition in 1917, but the jury questioned the essence of this work and removed it from the exhibition, claiming that it was a mockery of the idea of democracy. At the time, Duchamp was one of the directors of the exhibition and sent the work under the pseudonym (Richard Mutt), but after losing the vote he gave up the fight and never confessed to the authorship of the "Fountain". After all, it was a fight against censorship at that time, a fight for the artist's freedom. The only thing left after the work is a photograph of Alfred Stieglitz, who was actually delighted with this urinal. The name came from the manufacturer of popular sanitary ware "Mott Work" so that it would be known to a wider audience.
Duchamp's piece of art is also missing, a replica is currently on display. In 2004, the work was proclaimed "the most influential work of the twentieth century" by 500 well-known artists and historians. As Krzysztof Kłopotowski, a Polish journalist and film critic says:
I also think that one should be forgiving of artists. Artists have the right, sometimes they should even appear in political, civic, moral immorality in order to tell us how it was. The artist has the right to be mad, to start the creative process. A great work will come out of this craziness, so you can only applaud it2.
To this day it is a mystery what happened to this "Fountain" - there are rumors that it was thrown out by the artist himself, when he left for Buenos Aires in 1918.
Duchamp himself did not treat his works with his full-fledged works of art. It was a kind of irony for common, passive recipients. He believed that everything could be described as "art" or "work" if the artist called it. At the same time, René Magritte was playing a similar game (here you can only mention the iconic "Ceci n'est pas une pipe", or "This is not a pipe" showing - to the recipient's surprise - just a pipe).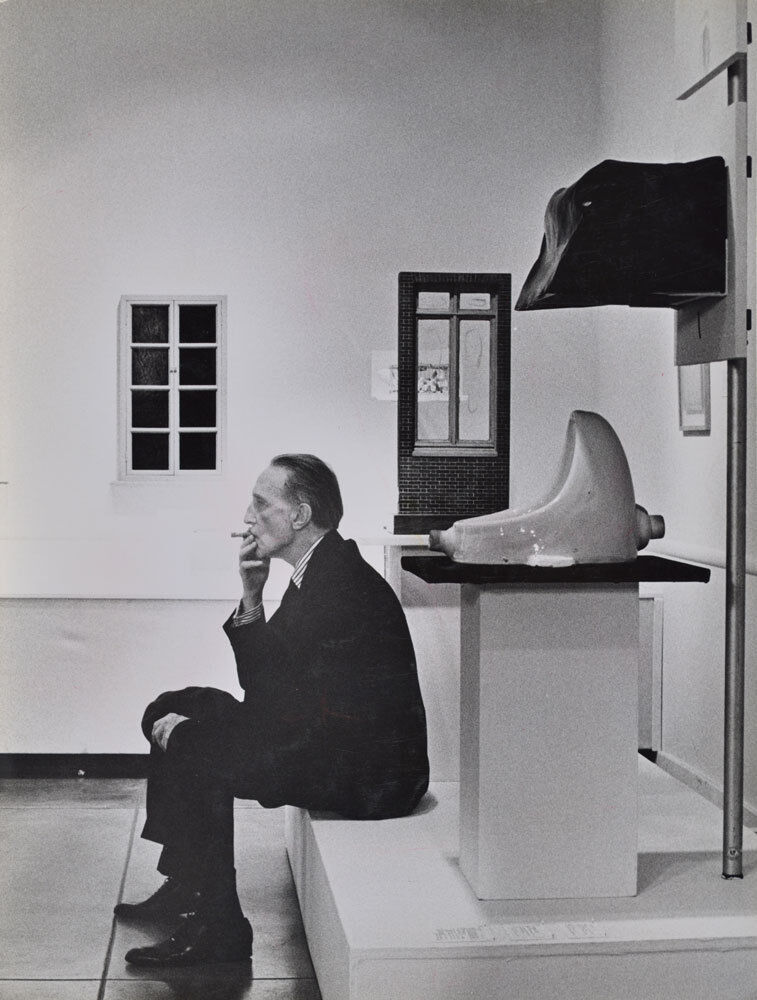 Marcel Duchamp and his art (source: www.barnebys.se)
However, as it turns out, there is more urinals and toilets in art. In 1996, the artist Sherrie Levine, known for processing and reproducing known works, created her own Buddha-urinal as a tribute to the great father of Dadaism. It has reduced originality, authenticity and authorship to an ordinary medium. She wanted to refer critically to the work of Duchamp, who was hailed as a radical of the 20th century. She undermined the value of his work by casting it in a more valuable material, which is bronze. This is one of her many works that undermine the concept of artistic creativity as a commodity in art.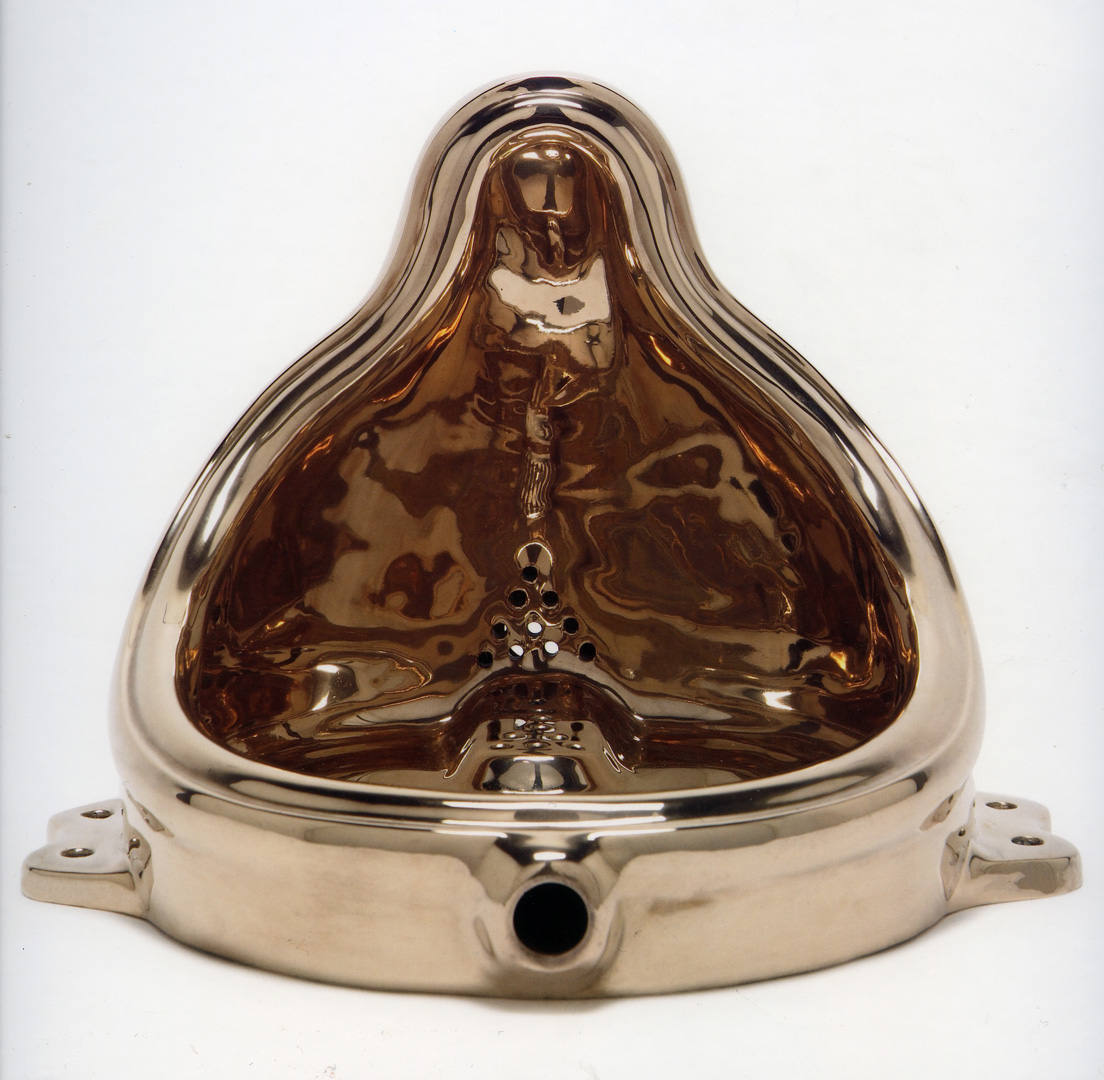 Sherrie Levine "Fountain" (Buddha) 1996 (source: www.thebroad.org)
Currently, interest in toilets has now taken a completely different dimension. There is even a separate website containing photos of museum toilets around the world. If you want to find out what a urinal looks like in MoMA, The Met or Tate Museum, you don't even have to leave the house, just go to The Art Museum Toilet.
Although this discussion may seem really funny, it raises the basic question about the essence of a work of art and the object of everyday use. In the case of Cattelan, the distinguishing feature was extremely valuable material - pure gold. At Duchamp it was about the whole concept of ready-mades, which boldly played with the recipients and pushed the boundaries of art at its own discretion. Postmodernism introduced new concepts of art, work and reproduction. It turns out that everyday objects lose their meaning depending on the context, lose their originality. They can break the patterns, have a new meaning. In art, all tricks are allowed, and isn't the toilet a place of our greatest contemplation?
[1] "Pod prąd", TVP Info, odcinek 34, o filmowcach z okresu PRL-u